Amelia Earhart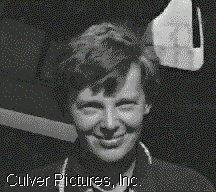 1897-1937
Amelia Earhart is a symbol of aviation for the 1920's and 1930's. Though her time in the limelight was short, she helped others to see the power of aviation and the capabilities of women. Earhart made landmark flights and will be forever linked with aviation history. In 1937, she disappeared and was never seen again. There are thousands of theories and countless speculations about the flight which was her last. It is still a mystery; no one knows what really happened. Still, there is nobody to doubt her accomplishments in flying. She will forever be linked with the sky.
---
Amelia Earhart Links
IWASM- The International Women's Air and Spaee Museum- This site has great stuff on Amelia Earhart and any woman in aviation history. Go here to get things like biographies, photos, articles, and info about the museum itself. If you'd like to visit the museum, it is located in Dayton, Ohio.
The Ninety-Nines, Inc. - This is an association of womem aviators. Amelia Earhart was their first president. The organization started November 2, 1929. It was named for its ninety-nine charter members. The association still exists. They have seminars and workshops all over the country.
Amelia Earhart - This is a great site for biographical info. They have facts on the early years, her celebrity status, and her infamous last flight. It has quotes, pictures, and maps as well. There are also links and references for further research.
Amelia Earhart: Life & Times - Here is a site with some very interesting features. If you're looking for pictures, this is the place to go. There is an entire photo album filled with pictures of Amelia. They even have a section devoted entirely to the planes Earhart flew. Additional information is provided about world flight today.
Amelia Earhart - This site claims to be the official Amelia Earhart website. It is an excellent site with wonderful features. It has a section on her career highlights, a photo gallery, quotes, a merchandise section, and a printable biography. Visitors can even retrace Amelia's famous flight!
Amelia Earhart Images/Sound - If you want a sight with pictures, this is it. It is packed with pictures of Earhart and her planes, as well as pictures of her early life. There are a few sound clips. Overall, it is a very good site.
Amelia Earhart - This site is a small site, with a short biography. It has a picture of a limited edition bust of Amelia. There are only 100 in existence. At the bottom of the page, there are links to other Earhart sites.
Earhart Project - The Earhart Project is a search for information pertaining to Earhart's last flight. If you have any, the creators would certainly be appreciative. Their quest for the truth has been continuing for nine years. There are many links to research bulletins and newsletters. You can receive Earhart information from these sites via e-mail.
Motor Sports Hall of Fame - Amelia Earhart - In addition to her many other accomplishments, Earhart earned her place in the Motor Sports Hall of Fame. This is a small biography, with a picture. If you click on the sidebar, you can see some artifacts from the museum. The museum is located in Novi, Michigan.
Amelia Earhart - This site is created by the Naval Historical Center in Washington D.C.. It has official information about her final flight, as printed in the military reports. It also has a link to the U.S. Navy Archives. A bibliography is located at the bottom of the page.
Amelia Earhart links exercise - Here is a fun activity for all the puzzle lovers out there. If you match the answers correctly, and follow the directions, you should get the year Amelia Earhart became the second person to fly solo across the Atlantic Ocean. Are you ready for the challenge?
The Search for Amelia Earhart - This entire site is centered around the disappearance of Amelia Earhart. It has links to many integral documents related to the search. Every theory possible is found here. If you're looking for many different viewpoints on the issue, this is an excellent site.
MCIN -- Zonta Celebrates Amelia Earhart - This site is in memory of Amelia Earhart. It celebrates all her great accomplishments. Here one can find a list of all the records she set. It also has important anniversaries. Zonta is another association of women in flight. They have established many scholarships in her name. Women who pursue careers in aero-space-related sciences and engineering are eligible to receive them.
Aeronautics - Amelia Earhart - A good biography can be found at this site. There is a picture of Earhart near her plane. It is an excellent site for general information about aeronautics, careers in aerospace, and aeronatics history.
World Flight 1997 - The recreation of Amelia's flight is the main topic of this page. It has a map of the journey of Linda Finch, who flew the Amelia Earhart's path in the event. Among other features, there is a pilot's log, weather reports, and links relating to the mission.
---
This page was created by
Blythe Cowden
For the 1st Quarter Project
U.S. & World Honors 10
Period 3